Green Hills Apartment, the project in modern complex Vinh Loc Residential Area, is the first one in the West of city invested by 100% foreign capital. Green Hills apartment contains 5 blocks, 1st one is built on 33,000 m2 area included block A, B, C and 777 high quality apartments with 5 square categories ranging from 63,57 m2 to 115,2 m2; 5 penthouse categories with bigger square. Block A is under construction with being sold 276 apartments.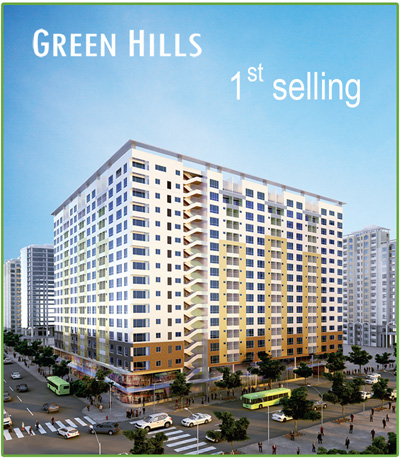 Green Hills promisingly brings you a dream life with full of premium facilities and more importantly quite affordable price. This is foreseen to become the heart of West in a few coming years.
Being positioned in a strategic location near the intersection of National Highway 1A – Le Trong Tan – Nguyen Thi Tu, the main street connecting neighbouring areas, Green Hills also brings pure living space and well-facilitated mini city. The construction is designed to have only 27.5% construction density and floor area ratio 3.45, the rest is covered green for communities activities such as playground, swimming pool, garden,… Besides outstanding points of eco-friendly environment, Green Hills offers buyers a perfect house with affordable price from VND 15.35 million/m2.